Texas
We couldn't escape LA.  When we did, we rode the train far, far away. From palm trees to cacti.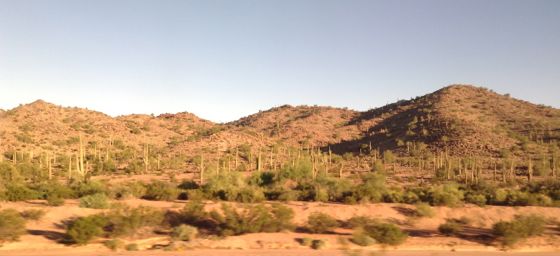 We passed through Saguaro National Park on the train, which is on both the west and east sides of Tuscon.  Saguaro is the name of this kind of cactus: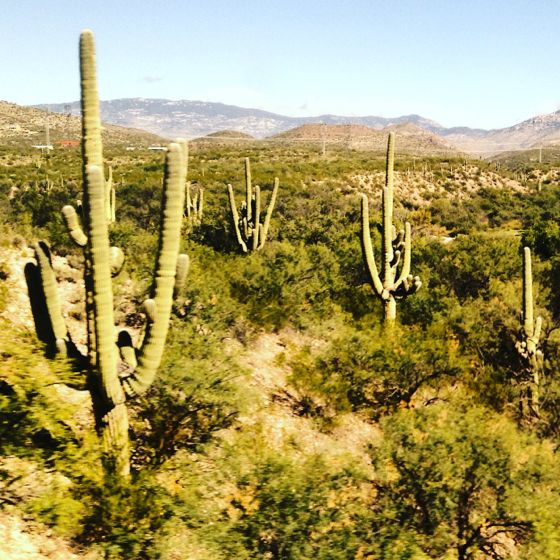 They look pretty funny sticking up all over the place.  They can get pretty tall and live ~200 years.
We arrived in Alpine, Texas and stayed at the Oak Tree Inn, which includes breakfast at the neighboring Penny Diner - open 24/7!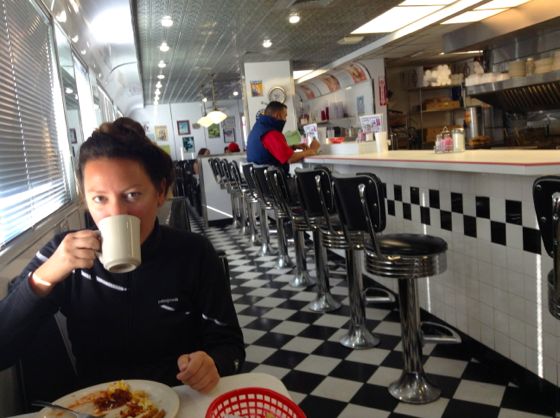 After fueling up at Penny Diner, we cycled more than 80 miles south to Terlingua.  I've never seen such wide, open expanses.  This cow looked lonely: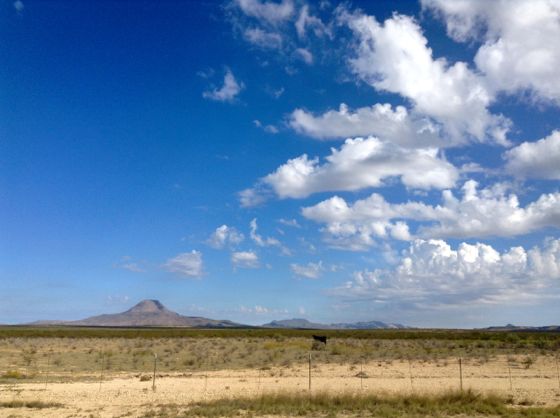 The mountains of Big Bend National Park looked so far and very slowly neared.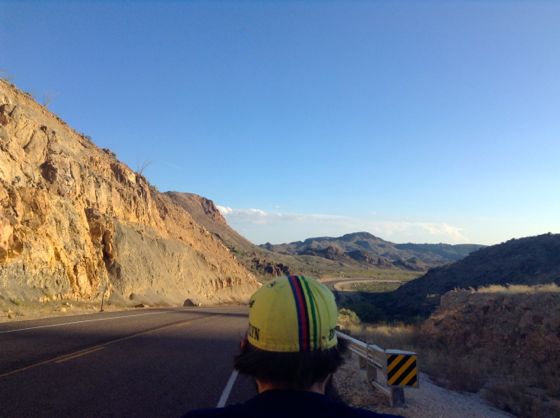 This chiseled red rock mountain looks like the Texan version of Half Dome.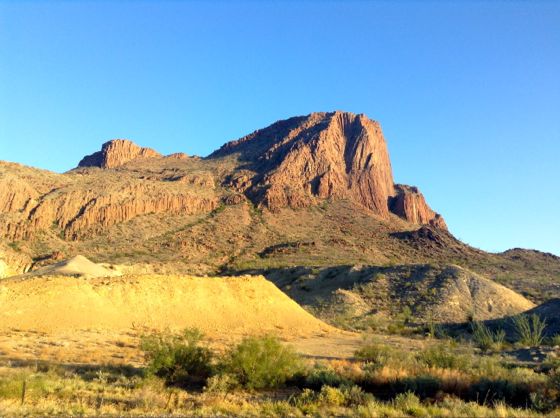 We arrived in the town of Terlingua as the sun was setting.  Through airbnb, we found Jeff & Rachel.  They set up some tents on their land, including bedding, so we enjoyed camping out with the rattlesnakes without having to bring our own gear.  They provided the last open bed in town as everywhere else was completely booked months in advance for the annual Chili Cook Off.  It was great being in town for the biggest festival of the year.  The festival is lots of RVs, a little bit of chili, lots of beer, lots of cowboy hats, and nonstop country music.  
The rest of the year, the Terlingua Ghost Town is sparsely populated and whoever's in town hangs out at the porch of the general store.  The Porch has a great view of the mountains in nearby Big Bend National Park.  People roll up in their trucks, crack open a few cold ones, and shoot the breeze.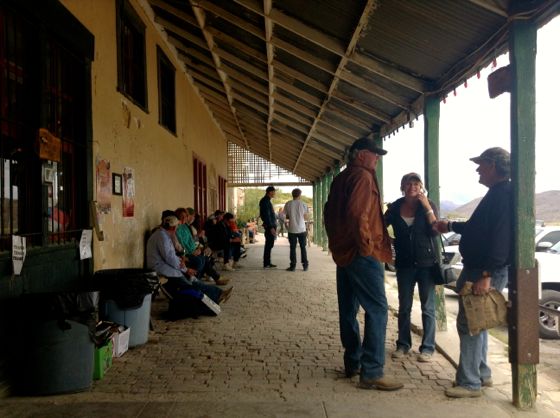 Here I am with 3 of our new friends: Alan, Sonja, & Lone Star beer.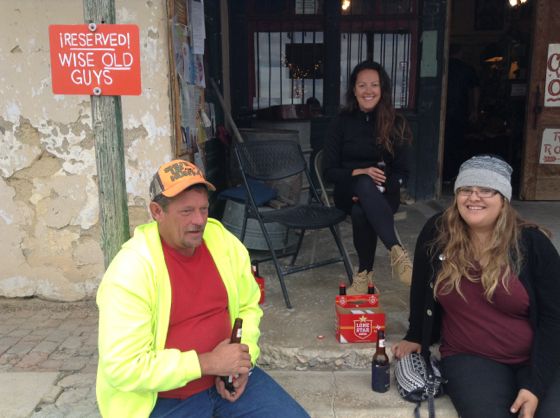 Here we are with our other new friends:  our hosts Jeff & Rachel have cute, little, baby Logan; Jeff's brother Patrick with wifey Monica and their kiddoes; Jeff's other brother Alan; Sonja; and Sherry & Chase.  It was great meeting them all and we really enjoyed being a part of their gang for the weekend.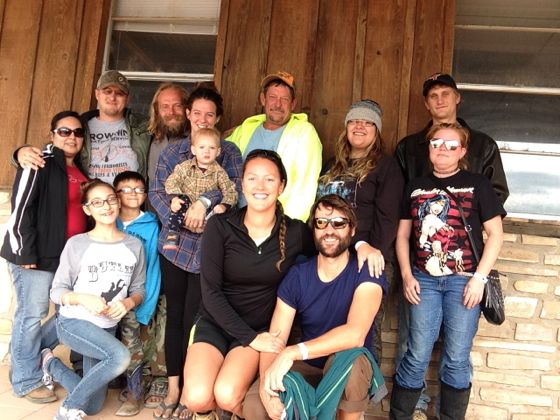 After the Cook Off, people starting leaving town on Sunday, but we stayed on to go to the National Park. It looked so close on the map, but to actually get anywhere you really need a car.  The distances are too great & and the overnight options too few for cycling.  Thankfully Alan lent us his car!!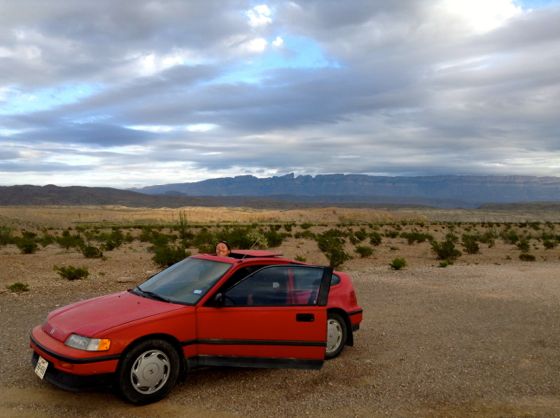 Big Bend is named for the big bend in the Rio Grande river, which provides a natural border between the US & Mexico.  You can swim or wade across to reach the tiny Mexican border town of Boquillas, but we opted for the $5 per person rowboat.  Then the truck ride 1 mile into town is another $5 per person.  Then lunch is $25.  Then you're expected to tip your designated guide, even if they don't speak a lick of English and don't actually guide you anywhere.  Boquillas suffered greatly when this border crossing was closed for about 10 years until 2013.  It's improving with the tourist crossing reopened since every visitor has to basically dole out dolla bills to everyone that says Hola.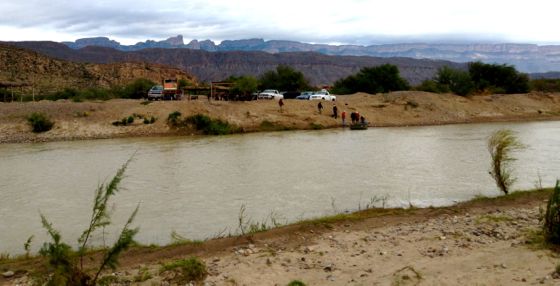 After all that, we didn't even get stamps in our passports.  We got a nice sky on the way back to Terlingua though.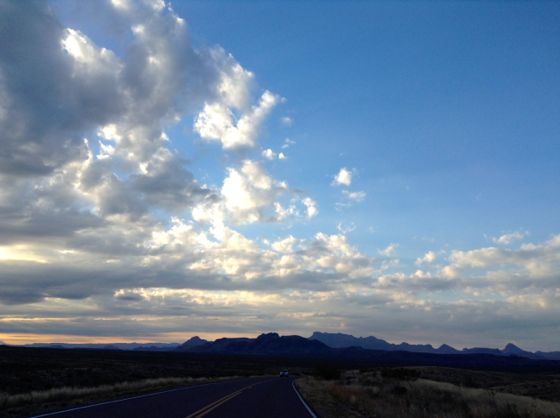 After returning to Alpine, we visited Big Bend Brewing Co.  The brewery actually provided the only chili we were able to try all weekend.  They also provided lots of excellent, fresh beer and the people were all super nice.  We had a great time hanging out with them at the Chili Cook Off and then back at the brewery.  This picture shows Christian speaking with the German brewmaster while the owner waits for a beer.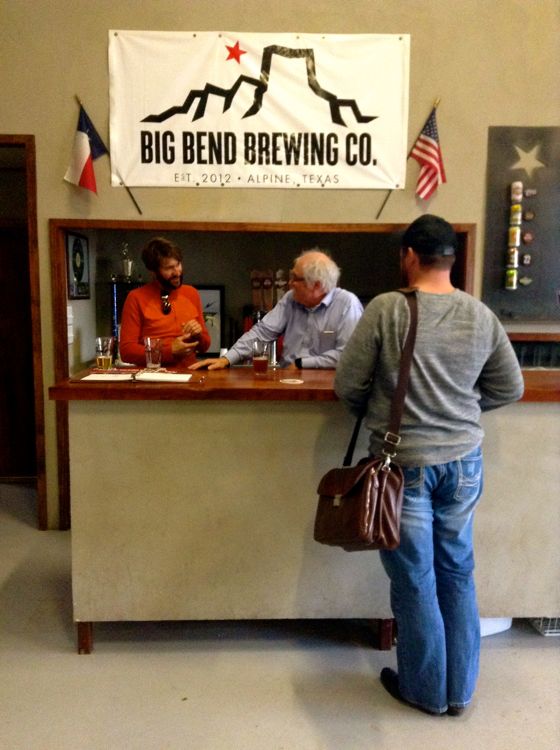 We had such a great experience in West Texas, but alas it was time to move on.  Back on the train...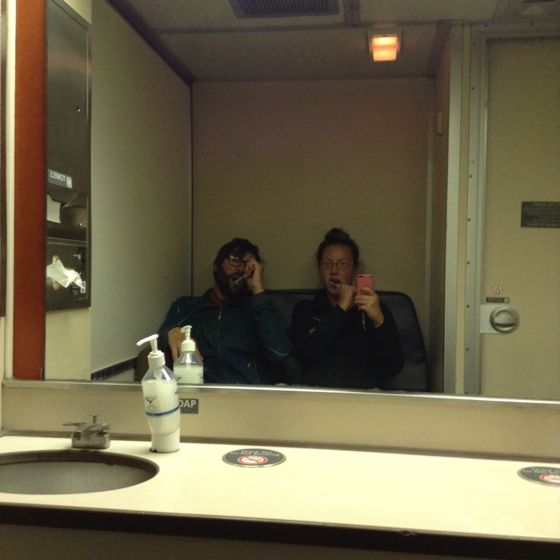 We took the overnight train from Alpine to San Marcos.  A lot of the area around San Marcos, especially west of it, was settled by Germans so the region is known for its sausage.  Every year in November, the town of New Braunfels hosts Wurstfest.  How wonderful that we were serendipitously in Alpine for the Chili Cook Off and now in New Braunfels for the Wurstfest!
The fest was fun, but missing one key element: Maßkrug.  I miss Prosting with Maßkruge!  The fest did, however, have sausage on a stick so that was funny - Steckerlwurst!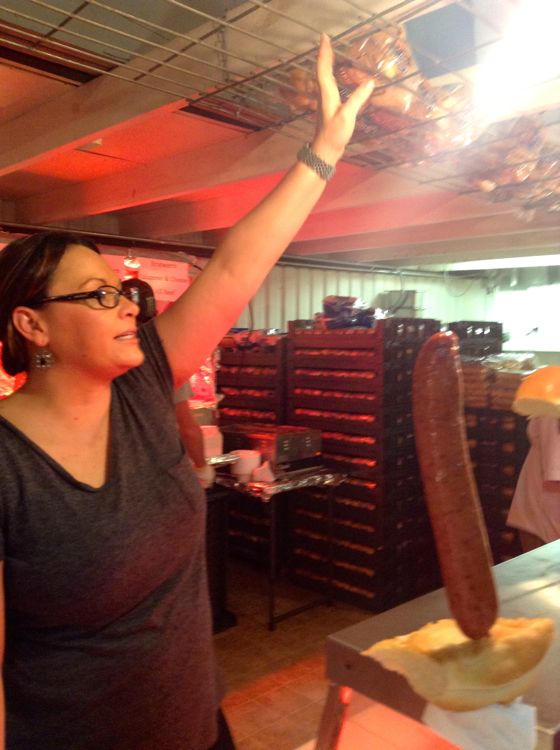 After festing, we cycled into Austin!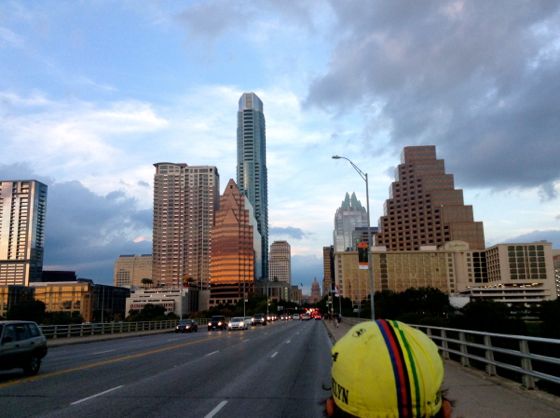 Such a plethora of live music there that it's like sensory overload!  We sort of ate our way through Austin:  BBQ at Micklethwait's food truck (Avalon BBQ Co. is still my favorite though!), unique pizza at East Side Pies, a sort of Thai-Mexican fusion from the food truck, and samples galore at the Whole Foods HQ & super-store.  Local beers imbibed include A and we spent a fun night at the Zilker brewery.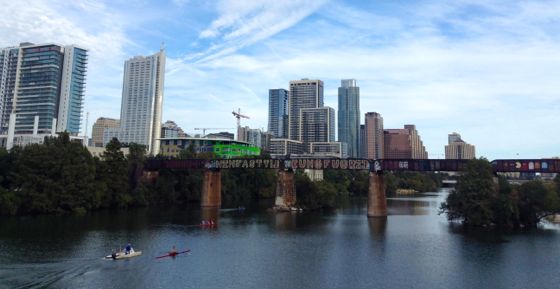 We left Austin with the intention of cycling to New Orleans.  Truck traffic, a total of 5 flat tires, and rain prevented us from cycling the entire distance.  However, as planned, we rode along the Mississippi Bike Trail into Crescent City!  A few angels from airbnb & Warmshowers helped make that dream come true. I will never forget the kindness that Igor, Susan, Rachel, & Dale showed us in supporting our adventure.  THANK YOU!!!